The preceding three parts of this series explored issues in F-111 life extension into the 2030-2040 timescale, and the implications of a retrofit with the supercruising F119 powerplant common to the F-22 Raptor. This final part explores force structure issues which would arise from a relifed supercruising F-111S fleet.
Force Structure Implications
The retention of a comprehensively upgraded F-111S would necessarily change the complete rationale of the AIR 6000 project, which would become a program to primarily replace the F/A-18A with a better air superiority fighter, and plug capability areas not addressed by the F-111S.
Australia's strategic position has altered somewhat as a result of the 11th September WTC attack. India has firmly aligned itself with the West, while China's track record of previously supporting Pakistan and Iran with military aid does little to alter its position in the longer term strategic picture.
With the prospect of a drawn out coalition campaign by the West which is apt to involve ongoing air campaigns against states sponsoring terrorist activities, the most valuable asset US allies can provide are bombers with respectable combat radius. Runway access will be an ongoing issue for Infinite Justice, this being implicit to the geography and politics of the campaign.
It is likely that any significant contribution by Australia to this campaign will alter all of the basic funding assumptions for AIR 6000 - less money is likely to be available at the end of this decade. This in its own right strengthens the case for F-111 life extension. The F-111 is an asset well suited to the coming campaigns by virtue of its combat radius, load carrying ability and accuracy, and its retention provides the RAAF with an opportunity to acquire a decent F/A-18 replacement despite the likelihood of funding difficulties downstream.
If the F-111 fleet is to be committed at some stage to the Infinite Justice campaign or follow-on operations, putting a useful number of aircraft into a distant theatre will require that the RAAF acquire further F-111s from AMARC. This is to provide a large enough pool of aircraft to cover depot level maintenance and BUP effort, as well as providing enough aircraft at Amberley to sustain the training effort required to support rotations of aircrew in theatre. The aircraft which could be most quickly brought into service are 12 of the remaining 15 F-111Gs, with 24 or more additional F-111F Pave Tack capable airframes almost certainly a sound investment. The F-111F would require some further infrastructure to support its AUP-like but unique Pacer Strike bomb nav system, which was fitted to about 50% of the F-111F fleet before its retirement.
At the time of writing it is unclear what path the government intends to pursue in the US-led campaign. Should it opt to send the F-111 to war, then it is very likely that it will have to invest in additional airframes for the commitment to be sustainable yet credible in numbers.
Regardless of the unknowable immediate future, it is well worth exploring the force structure issues surrounding the possibility of a post AIR 6000 model incorporating an evolved F-111.

This evolved F-111 would have a respectable capability as an air defence interceptor armed with the AMRAAM or follow-on missiles. With high resolution attack radar modes the aircraft could perform strategic strike, battlefield interdiction, close air support and maritime strike, under any weather conditions. With radar back end provisions, this aircraft could supplement the Global Hawk as a radar reconnaissance asset. With a supercruise capability it could match the transit speed of the F-22.
In practical terms, the evolved supercruising F-111 becomes a long range / long endurance multirole combat aircraft, with a limited capability to penetrate heavy defences unescorted, and lacking the agility to contest top tier air superiority fighters.
With the exception of the highest risk air superiority and deep penetration strike roles, the evolved supercruising F-111 outperforms all contenders but the F-22.
Retention of the F-111 well past 2020 inevitably results in a two type force structure, rather than the single type force structure which is the holy grail of many a force structuring debate. The remaining question in resolving AIR 6000 becomes which fighter to replace the F/A-18A with and in what numbers?
The flexibility and versatility of the multirole evolved supercruising F-111 in turn leads to the question of whether the hypothetical future force structure, incorporating F-111s, should be bound to the current F-111 force size. As boneyard F-111s are a very cheap commodity, there are no fundamental obstacles to having an arbitrary number of multirole evolved supercruising F-111s in a force structure mix with another fighter.
The existing RAAF force structure is in many respects an arbitary result of incremental evolution. Two squadrons of F-111C/G comprising 34 aircraft and four squadrons of F/A-18A comprising 72 aircraft, with the F-111 component dedicated to strike roles and the F/A-18A component performing OCA/DCA and supplementing the strike capabilities of the F-111 component.
Figure 1 illustrates a range of force structure models, based upon a mix of the evolved F-111 and F-22, and the starting assumption that the White Paper constraint of a constant number of 100 fighters is observed. The F-22 would perform the most demanding high risk air superiority and deep penetration strike roles, and it would escort the evolved F-111 as required. The choice of the F-22 is not arbitrary: it provides engine commonality with the evolved F-111, and it is compatible in transit and penetration speeds. It is also the only fighter with the size to provide for safe diversion to the Cocos Islands, in the event of an AAR failure during an escort sortie to the outer bounds of the White Paper capability goal.
The light model would be a simple one-for-one F/A-18A replacement by the F-22, complemented by the existing force size of two evolved F-111 squadrons. It would provide a highly effective capability to penetrate heavily defended airspace and overwhelm opposing air defences, but is also the most expensive due to the large fraction of F-22s, and it will demand the most supporting AAR capability. Aircrew demands are no different than the current model. We assume the current F-22A flyaway cost of USD 84M will hold. Given that the ultimate number of USAF F-22s could vary between ~ 295 and 750 aircraft, the flyaway cost could vary considerably. Insertion of cheaper JSF generation technology into the F-22 could significantly alter the cost of later build aircraft.
The balanced model has a 50/50 split between the F-22 and evolved F-111, thus it is cheaper than the light model in initial acquisition outlays and supporting AAR resources, at the expense of its capability to defeat a very strong opponent. With 54 x F-22s it is similar in fighter strength to the USAF's GSTF AEF model which employs 48 x F-22 and 12 x B-2. With 54 x F-111 it has a bombload tonnage capacity 35\% greater than the GSTF B-2 force element, but with a lesser ability to penetrate heavily defended airspace due to the non-stealthy evolved F-111. In summary this model trades away some survivability but slightly exceeds the firepower of the USAF GSTF AEF model. Aircrew demands are up by a squadron sized contingent of F-111 navigators.
The heavy model has 2 squadrons of F-22s for air dominance and deep penetration strike in heavily defended environments, and 4 squadrons of evolved F-111 for strike and bomber / ALCM / SLCM interception. This model is the cheapest in initial acquisition outlays and supporting AAR resources needed, but is weakest in its ability to penetrate heavily defended airspace due to the smallest fraction of F-22s. It does however offer the strongest capability to deliver bombload tonnage of all three models. The cost advantages in the lower F-22 fraction will be offset by the need for two squadron sized contingents of F-111 navigators, which will increase the outlay for aircrew by a non-trivial margin, especially over the longer term.

If we set aircrew numbers to be the bounding factor in force structure size, refer Figure 2, then for every additional squadron of the evolved F-111, we must give away something to balance out the aircrew numbers. In this model it is a squadron of F-22s for every additional squadron of the evolved F-111. Again, this yields a heavy, (not quite) balanced and a light force structure model. The light model remains as is, the balanced model is 1/3 weaker in F-22 strength with the inevitable consequences which flow from that, and the heavy model arguably falls below critical mass in air superiority assets with a single F-22 squadron.
In practical terms it would appear that three viable models exist:
54 x F-22 and 54 x F-111 - balanced with a constant force size.

36 x F-22 and 72 x F-111 - heavy with a constant force size.

36 x F-22 and 54 x F-111 - balanced with constant aircrew numbers.
The (1) model is by far the most lethal and survivable, but incurs cost penalties in having three F-22 squadrons and an additional squadron sized contingent of F-111 navigators. The (2) model with two F-22 squadrons loses some lethality and survivability, but incurs lower initial acquisition outlays with yet higher aircrew costs. The (3) model is neutral in terms of aircrew numbers against the nominal existing force structure, but loses 1/3 of the capability conferred by the F-22 component.
In terms of lethality all of the three viable models far exceed the capabilities of the existing RAAF force structure. All three models meet or exceed the White Paper strike capability goals, and provide a substantial number of counter air assets to meet the airspace control capability goal.
If we assume that adequate AAR resources are available, then extending the RAAF's existing strike capability to the outer bounds defined by the White Paper capability goals would require nominally 34 evolved F-111s and enough F-22 escorts to defend these F-111s. If we assume a ratio of two escorts to four bombers, this yields a minimum of one squadron of 18 x F-22s. However, in wartime the air superiority force cannot be wholly committed to long range escorts without exposing the Arc of Vulnerability between the Gascoyne and NT to potential attack. Making the reasonable assumption that a single F-22, by virtue of supercruise and missile payload, can perform the work of four F/A-18As, then a single squadron of 18 x F-22 would arguably provide a sufficient number of aircraft to provide defensive coverage of the most important assets within the Arc of Vulnerability.

This yields a basic force structure composition of 36 x F-22 and 36 (34) x F-111 aircraft, with no reserves, no support jammers and no allowance for F-111s in depot for overhauls or upgrades.
If we assume 12 x EF-111 support jammers and 6 x F-111 to cover for aircraft in the depot, the total F-111 component is then 54 aircraft. This is indeed the same basic composition as the (3), or balanced with constant aircrew numbers model discussed previously.
Given the stated assumptions, the 36 x F-22 + 54 x F-111/EF-111 force structure model provides an optimum, as it retains the current nominal number of aircrew, extends the current nominal F-111 strike capability to twice the existing combat radius, allows for support jammers, and provides enough F-22s to both escort the strike force and maintain a minimal continental air defence umbrella.
What funding would be required to field this force structure? A good order of magnitude metric is to look at available flyaway costs. The current F-22 flyaway cost is stated to be USD 84M per unit - the FMS cost will differ by very little. A purchase of 36 x F-22 would require of the order of USD 3B. For comparison, the flyaway cost of 100 current non-stealthy multirole fighters would be of the order of USD 5.5B. If we make the assumption that the optimum F-22 + F-111 mix should cost no more than a block replacement with 100 current non-stealthy multirole fighters, then USD 2.5B would be available for upgrades and the acquisition of additional F-111s and EF-111s. Per F-111, on average this yields of the order of USD 46M available for upgrades including the F119 retrofit.
Clearly a more exact costing model would be required, incorporating the costs of supporting infrastructure and facilities, in order to reach more definitive conclusions. However, it is clear that a mixed F-22 + F-111 force structure is credible alternative to the conventional single type models frequently discussed in this context.
Specialised Roles: Reconnaissance
Strategic and tactical reconnaissance capability to support RAAF strike operations is a long standing weakness in the ADF's force structure. This capability can be addressed in a number of ways, using oblique optical camera and synthetic aperture radar technology carried by manned aircraft or UAVs. Indeed, UAVs such as the now planned RQ-4A Global Hawk can provide exceptional capabilities in terms of range/endurance and the ability to transfer data in real time.
While it is fashionable to portray the Global Hawk as a panacea, odds are the earliest the ADF might see production Global Hawks is later this decade or early in the next, especially with early production likely to be absorbed by USAF operational forces. By the same token there will be situations where a Global Hawk may not provide the response time or survivability required due to its slow subsonic cruise profile (eg Iraq has recently taken to firing SAMs at USAF U-2s).
Whether we consider near term needs for reconnaissance or high threat situations, there is much to be said for equipping some proportion of the F-111 fleet with very high resolution synthetic aperture radars and supporting high speed digital recorders.
If the F-111C/G were to receive a radar upgrade using AESA technology, then this opens up an opportunity to fit some of these radars with off-the-shelf very high resolution synthetic aperture imaging capability, available for the APG-79 and APG-80, and digital recorders for reconnaissance capability. The incremental cost in doing so is of the order of USD 250-500k per aircraft. Such a capability would not be a substitute for a Global Hawk or similar UAV, but rather a stop gap measure and later supplement for situations where UAVs are less than the ideal solution. Since it is an internal addition to the radar, it is compatible over the longer term with any supercruising engine upgrade which might be performed, unlike external radar pods. A similar argument can be applied to a LOROP camera pod, should it be adapted to stow on a Pave Tack cradle.
Specialised Roles: Support Jamming
Support jamming, as noted last year by AM Errol McCormick, is one of the remaining big holes in the ADF force structure and would be a potent tool used in the support of strike packages penetrating airspace defended by AWACS, while providing an excellent adversary training capability for the Wedgetail force and the RAN. Its importance cannot be understated, the US provides supporting tacjammers to cover even the stealthy B-2 and F-117A.
An earlier analysis proposed the revival of several mothballed USAF EF-111A aircraft, fitted with an updated ALQ-99E tactical jamming package (refer http://F-111.net/CarloKopp/). The arguments for this capability remain not only valid, with A-50 AWACS and S-300PMU/300V series SAM systems now proliferating in the region the case is now stronger than ever before. A high power jamming capability against the A-50 or S-300 could nullify much of the advantage offered by these systems, as well as defeating the very many modern naval SAMs proliferating across the region. The EA-6B Prowler was a central component in the USN's Cold War blue water naval strategy, providing potent offensive and defensive capabilities to US naval forces. During the 1999 Serbian campaign, the EA-6B Prowler was considered a go/no-go item for all strike packages. With the trend to upgrade older Soviet SAM and radar systems with modern digital electronics, and the adoption of shoot and scoot or radiate only when shooting SAM tactics, tacjammers are yet again in the forefront of defence penetration technique. The ongoing needs of the Infinite Justice campaign are apt to see a strong demand for this capability.
In the ADF context, where the F/RF-111C/G is the primary maritime and land strike asset, the EF-111A would provide equivalent capabilities to the USN Prowler fleet in maritime strike, maritime cruise missile defence of SAGs and counter-air/strategic land strike. It is therefore a very flexible asset, which expands the capabilities of the ADF in many roles, much more so than extra submarines might. As the EF-111A matches the speed and radius performance of the F-111, and shares common systems and engines, it is a natural fit for the role. Its capacity to later accommodate a supercruising profile also makes it the only design which fits with an F-111/F-22 based force structure - a podded tacjamming system cannot be efficiently supercruised.
The key cost structure obstacle to date in reviving the EF-111A tacjammer has been the need to maintain compatibility between the defensive EW package and the ALQ-99 Tactical Jamming System (TJS). Without modification of the defensive EW package, problems arise with mutual interference between the jammers. Working around this incurs an ongoing expense requalifying modifications with every larger incremental upgrade of either system. With the impending demise of the F-111's specialised ALR-62/ALQ-94/ALQ-139 defensive package, and its extensively modified EF-111A variant, costly integration would need to be done on whatever replacements are chosen for the RAAF. This obstacle exists even for a podded tacjamming solution, on any fighter, which also may see difficulties with jammer spillover into receivers.
Technological progress has however produced an alternate path. The latest USN ALQ-99 variants have the upper frequency band coverage and flexibility to subsume the functions of a tacjammer's defensive RWR and jammers. Therefore, the need to carry a defensive EW package on a tacjammer is in the process of becoming an artifact of EW history. The consequence of this is that the cost burdens of integrating a defensive RWR and jammers, and maintaining compatibility, will vanish in coming years, much altering the operational economics of a tacjamming capability. The unique defensive EW equipment devolves down to expendables, IR jammers and Missile Approach Warning Systems (MAWS). Operating a tacjammer using an ALQ-99 variant thus becomes cheaper, both in upfront costs and ongoing costs.
To introduce a support jamming capability a suitable number of EF-111A aircraft would need to be recovered from AMARC, and eventually equipped with a repackaged variant of the latest ALQ-99J TJS to be used by the USN on the EA-6B Prowler, the planned F/A-18G Growler and proposed F-15G tacjammer/Weasel variant.
Replacing the existing ALQ-99E in the EF-111A will be required at some stage, regardless of economics, since will become unsupportable, with many EF-111A/ALQ-99E systems cannibalised to keep older configuration EA-6B Prowlers operational. The comprehensive USAF EF-111A ALQ-99E System Improvement Program (SIP) was cancelled, limiting jamming modes and available upper band coverage as the new Digital-Based Exciter (DBE), upper band jammers and software/computer upgrade were never fitted.
The latest USN EA-6B ICAP III ALQ-99 variant is to enter fleet squadrons in Q2 2005. It uses the new digital Universal Exciter Upgrade (UEU) unit, progressively evolved from the design developed for the cancelled EF-111A DBE, the new LR-700 receiver package which replaces the existing ALQ-99 receivers, an upgraded AYK-14 computer, new RISC/VME computers, and new low and high band jammers in addition to the new AN/USQ-113(V3) Radio Countermeasures Set for jamming communications. An additional feature is the Improved Data Modem (IDM) for datalinking to other platforms and MIDS provisions. The system has growth potential to perform electronic reconnaissance.
The Litton LR-700 receiver package is of particular interest. It evolved from the LR-500 Precision Direction Finding System (PDFS) trialed on the USAF F-15, and the manufacturer claims it can provide precision passive radar threat detection, identification, precision geolocation, and jammer control. This places the LR-700 much in the category of an Emitter Location System (ELS) used on a Weasel, rather than an established jammer System Integration Receiver, allowing range-known mode HARM shots.
The mothballed USAF EF-111As have already been upgraded to the USAF AMP/DFCS configuration, making the basic systems including radar largely compatible with the RAAF's F-111Gs, and were fitted with the TF30-P-109 common to the F-111C/G. FB-111A wingtip extensions and heavy duty undercarriage would be a simple retrofit. This would repeat the RAAF's earlier conversion of F-111As to F-111C configuration and would bring the aircraft to an EF-111C standard.
The basic systems modification to the EF-111A would be the removal of the legacy ALQ-99E and its replacement with the new ICAP III system, including cockpit displays and controls, the removal of the current ALR-62/ALQ-137 variants without replacement, installation of the ALE-47 dispenser, and the possible integration of MAWS in the tailbooms and glove EW bays, using types selected for the upcoming F-111C/G EW upgrade. Integration effort is thus minimised.
The EF-111A would then be subjected to the same progressive airframe relifing, radar, avionic and propulsion upgrades applied to the remainder of the RAAF F-111 fleet, if required eventually bringing them to a supercruising EF-111S configuration.
This approach is clean, limits risk to an ALQ-99 ICAP III jammer upgrade, and exploits the US taxpayer's considerable investment into the development of ICAP-III and the integration of the ALQ-99E into the EF-111A airframe.
Should the ADF make a commitment to F-111 retention beyond 2020, then the EF-111A is the most practical platform for deploying a high power jamming capability. This is not only due to its performance and range, but the large integration design investment previously made into the USAF EF-111A.
Nothing is lost if Defence were to acquire e.g. twelve mothballed EF-111A aircraft from AMARC within the near future. In the current ALQ-99E configuration these could provide a training and limited operational electronic combat capability. A decision on performing an ICAP III and engine upgrade would best be done after the DSTO F-111 SOP findings are published in 2003-2004, in the context of AIR 6000. Twelve extra sets of spare parts for the F-111C/G fleet are the minimal return on investment.
The deployment of the EF-111A would plug a long standing hole in the ADF force structure at a lower cost to any new build jammer aircraft, without the long term performance constraints imposed by an external jammer pod installation common to all of these types.
Conclusions
The basic conclusion to be drawn is that a hypothetical supercruise capable F-111 propulsion package would completely transform the F-111's performance and break many of the survivability assumptions valid for the current configuration of the aircraft. The aircraft's operational productivity would be roughly doubled, thereby doubling the return on every bit of expediture on the aircraft. For all practical purposes, re-engining the 34 F-111C/G fleet with F119s would yield the current strike capability at twice the combat radius of the existing force, with AAR support, thereby satisfying the White Paper capability goals without having to double the F-111 fleet size.
Productivity gains aside, even a supercruising F-111 would require some fighter escort in an Su-27/30 + AWACS environment, and this would reduce the payoff, even if a lesser number of escorts is needed. Should that escort be the F-22, then its ability to perform the deep penetration F-117A low payload precision strike role by virtue of its stealth would allow it to assume the highest risk component of the F-111's many roles. By shifting the highest risk roles on to the F-22, the survivability issues driving F-111 replacement arguments are in turn much weakened.
As the basic F-111 airframe is a solid basic platform for trucking bombs, cruise missiles (e.g. planned AIR 5418 JASSM), air-air missiles and high power jammers, it would simplify future force structuring by assuming many specialist roles that might otherwise require a dedicated aircraft type. The aerodynamic potential to accommodate a sustained supersonic flight profile in a manner not available to any other type but the F-22 is a factor which should not be dismissed lightly. Of all basic airframes which might be available to the RAAF as supplements to a possible F-22 buy, only the F-111 has the aerodynamic optimisation for reasonably efficient sustained supersonic flight and the internal weapons bay to suit this regime of flight.
Retrofitting the F-111 with the F119 raises intriguing tactical, operational and strategic possibilities, but whether such an upgrade should be pursued depends on factors which are yet to be firmly established - structural life extension and F119 retrofit costs. Or the order of USD 50M could be spent on evolving the F-111, without costs exceeding flyaway costs of non-stealthy fighters, yet retaining the existing infrastructure investment.
Importantly, an F-111 upgrade using F-22/JSF generation technology such as the F119 will go obsolete much later than any new build teen series or Eurocanard fighter. A similar argument can be applied to radar, computer and EW upgrades, where applicable, especially if JSF avionics/software are inserted post 2015.
Given the possible option of a very long term commitment to an F-111 fleet, a good case can be made to engineer currently planned upgrades with a view to further design evolution.
This discussion is by its nature speculative, moreso with the prospect of a protracted global conflict in coming years. What is clear is that many of the AIR 6000 funding assumptions planned for in forward estimates are likely to collapse over coming years. Given that the F-111 is the most suitable asset for contributing to Infinite Justice and follow-on campaigns, and one which is not committed to defending from potential kamikazes or dealing with border protection tasks, acquisition of additional airframes from AMARC to provide back end support for operational deployments makes good sense. It also positions the RAAF for further life extension, which may prove necessary to deal with future budgetary realities.
If the F-111 can be stretched well beyond currently planned dates, then there is much to be said for taking this path as it would free up funding to allow a bigger investment into the F/A-18A replacement. It would also produce a respectable long term work package for our struggling domestic airframe and avionic industries, likely to further suffer from recent events. This would place less pressure upon the government to compromise capabilities in AIR 6000 to satisfy vocal industry lobby groups. Good cost reduction strategies in ongoing technology upgrades require long term commitments.
No less importantly, F-111 life extension could be spread over a period of up to 2 decades, therefore producing a very flat funding profile without the sharp peaks which would result from larger buys of new fighters. This alone, given the precedent set by cabinet's handling of Wedgetail, should be reason enough to explore the relifed supercruising F-111 more carefully.
It is worth reiterating that much of the support cost for the F-111 in its existing configuration is a direct consequence of continuing to operate sixties technology radars, instrumentation, engines and accessories, rather than replacing them with modern low maintenance hardware. Complaints about F-111 operating costs betray a lack of insight into how such costs arise.
In summary, these considerations make a strong case for the DSTO F-111 SOP project to be extended in scope to explore life extension into the 2040 timescale, and to explore in detail re-engining with the supercruising F119. They also make a good case for the near term acquisition of 35 or more mothballed F-111G/F aircraft, to support possible operational deployments and protect from likely future budgetary problems in AIR 6000.
This series was compiled as a speculative argument, with a premise that future funding pressures may clash with capability needs defined in the White Paper. As the events following the 11th September US kamikaze strikes have shown, this premise was closer to reality than anybody, including the author, could have ever imagined.
Acknowledgements:
The author is indebted to Kurt Todoroff, former USAF Captain and F-111D, EF-111A pilot, instructor pilot, flight examiner, and functional check flight pilot for his advice on F-111 high speed aerodynamics, and to Dr John Milthorpe of ADFA for his cogent comments on engine integration. Special thanks also to the many other reviewers who contributed experience, insight and critique to the drafts of this analysis.
No matter how much radar absorbent material is attached to an F-111, it will never match the marble or golfball sized radar signature of an F-22 or JSF. Therefore in heavily defended environments, especially with AWACS supported Su-27/30, it will require a fighter escort to operate at acceptable levels of risk. In less contested environments, modest amounts of radar signature reduction, supercruising engines and glidebomb weapons would produce a good return in F-111 survivability. In effect the supercruising F-111 becomes an ersatz F-22 usable in lower threat environments (Lockheed-Martin).
A strong case can be made for the EF-111A to become the basic platform for a support jamming capability. This is not only because of its potential to supercruise, but also due to the massive prior investment made into integrating the US standard AN/ALQ-99 TJS into the EF-111A airframe. A new look EF-111A derivative would be based on a repackaged ALQ-99 ICAP III system with the LR-700 emitter locating receiver and digital UEU exciter hardware (Author).
The USAF's small fleet of 34 EF-111A tacjammers was subjected to the digital Avionics Modernisation Program (AMP) avionic upgrade and the Digital Flight Control System (DFCS) upgrade, completed shortly before the aircraft were retired to the AMARC boneyard. The basic systems configuration is thus common to the RAAF's F-111G fleet, not presenting particularly unique support problems. Introducing the aircraft into RAAF service would require wing extension to FB-111A/F-111C standard, the installation of the heavy duty FB-111A/F-111C undercarriage, removal of the ALR-62/ALQ-137 and the integration of the new ALQ-99 ICAP III jamming package.
How to best escort a supercruising F-111? The obvious answer is with a fighter capable of sustained supercruise with a respectable load of internal weapons and fuel. This F-22A development aircraft is launching an AIM-120 BVR missile. While a force structure wholly based on the F-22 is attractive from a capability and a commonality perspective, at USD 83M flyaway per aircraft cost will be a major political issue. A mixed force structure comprising relifed supercruising F-111s and standard F-22s provides a means of padding out force structure numbers with a potentially cheaper aircraft with similar supercruising productivity (Lockheed-Martin).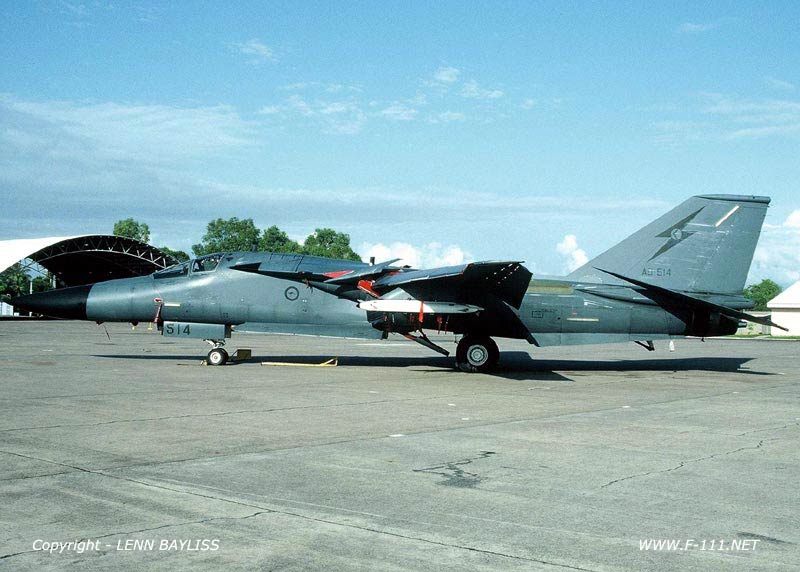 An important benefit of a domestic program to structurally rebuild, relife and re-engine up to 54 F-111s is that it would keep a substantial proportion of the AIR 6000 expediture in Australia, and would provide the Australian industry base with higher value added work than assembling a new fighter from imported components. The contractor base would remain well equipped to support the aircraft indefinitely. Moreover, such a program could be broken down into a large number of small upgrade blocks and spread over 10-20 years thus avoiding the large funding spike otherwise seen with a new aircraft buy. If current budgetary trends persist, securing funding for 100 new fighters, even of the least suitable types for Australia, will be challenging to say the least - using a rejuvenated F-111 to pad out AIR 6000 numbers could reduce this funding problem significantly (RAAF).